TABLEWARE 4LIFE
---
Serve up sustainably

TABLEWARE FOR EVERY USE
Eating and drinking is a joy of life. Make your meals an enjoyable experience with matching tableware for every occasion. Experience modern variety for over 65 years, 100% Made in Germany.
Read more
TABLEWARE BESTSELLERS
---
Sustainable and reusable tableware for every situation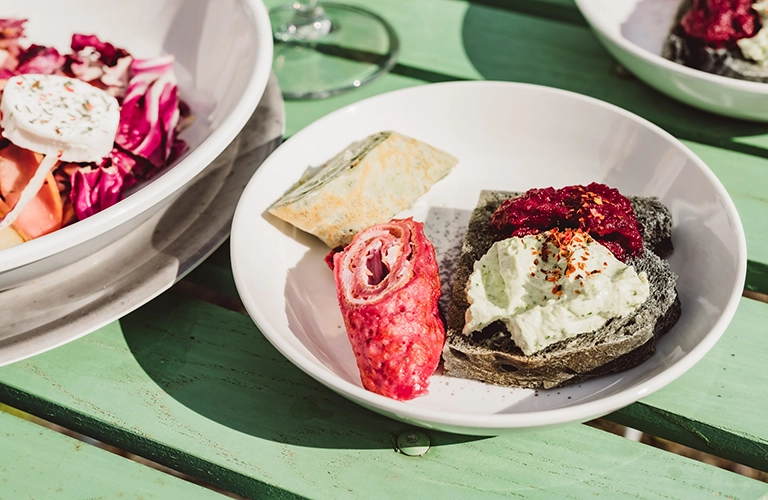 TABLEWARE SERIES
Elegant, purist, classic or rather extravagant? Discover the diverse tableware series from ORNAMIN - there is something for every taste. However, the tableware series have one thing in common: all products are made of high-quality reusable plastic, are recyclable and 100% Made in Germany.
Discover here
SUSTAINABLE REUSABLE TABLEWARE
The tableware looks very similar to porcelain, but is much more sturdy and sustainable. Produced by the climate-neutral tableware professional with 65 years of experience in the production of high-quality plastic items.

The ORNAMIN 4LIFE tableware is the perfect companion for outdoor and off-road activities. Whether in a camper van, camping, on a bike tour or barbecuing in the garden, the high-quality plastic tableware does it all and cuts a really good figure on the table.

The designs of the ORNAMIN reusable tableware range from rustic to stylish-classic to purist-elegant in different colours and decors. Whether breakfast plates, pasta plates, shallow and deep plates, serving plates for tapas or cakes, snack plates for cosy get-togethers with family and friends or salad bowls for barbecues. Everyone will find the right break-proof tableware here.

Are you looking for individually designed tableware for your canteen, cafeteria or catering business? The break-proof ORNAMIN tableware can be decorated dishwasher-safe. Take a look at our references for a first impression. For your individual tableware offer, please contact our customer service.

All ORNAMIN products are sustainably produced, BPA-free, 100% Made in Germany and recyclable.