We are available in round, square, small and large. And the most important thing: we hold tight. Prepare your lunch at home and take it with you to the office. Or have your food in your favorite restaurant or canteen filled into your own to go bowl right at the counter and take it outside with you.
Mix & Match
---
Design your own to go set
To Go Set
light, break-resistant, food safe, ideal for on the go reusable tableware with leak proof lockable lid virtually unbreakable, dishwasher safe, bowl microwave safe 100 % recyclable, bisphenol A-free (BPA-free), durable sustainable,100 % Made in Germany
Let yourself be surprised
---
Surprise yourself or your friends with our Mystery Box. The surprise set contains three to go items from our range, including unique items. A sustainable gift idea.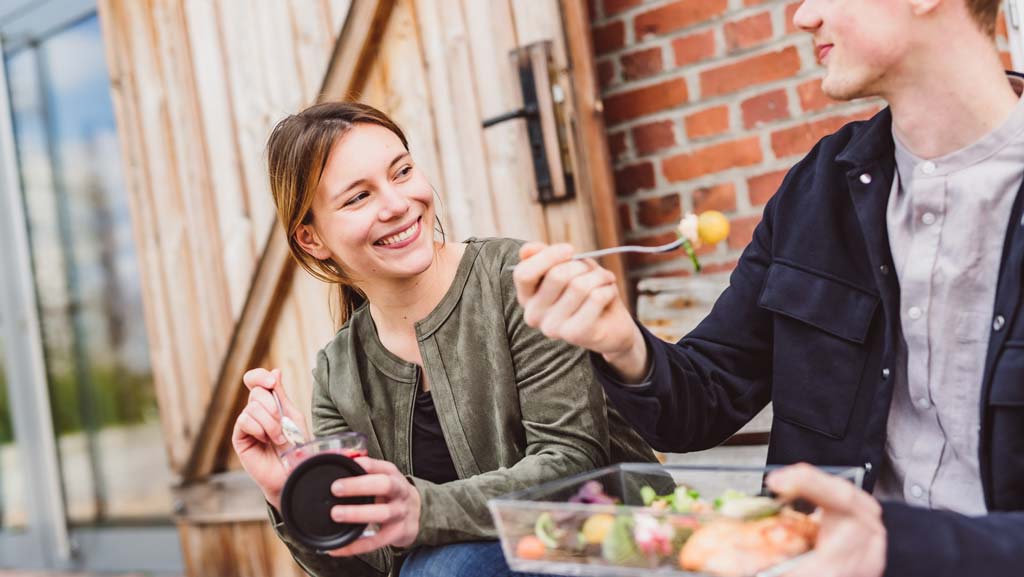 Reusable bowls instead of disposable packaging for food to go
The ORNAMIN food to go bowls and trays are ideal for lunch to the office, salad for the break or yogurt with muesli and fruit during the breakfast break: instead of taking lunch dishes from the supermarket, bakery or canteen in disposable containers, the food can be filled directly at the counter in reusable take away bowls and taken as lunch to go. The ORNAMIN to take away series also includes bowls for the popular bowl and ramen dishes. With matching ORNAMIN to go lids the reusable dishes are spill-proof, space-savingly stowed and safe to take along in any bag.
Harmless and microwaveable
In contrast to porcelain, glass or ceramics, ORNAMIN bowls made of high-quality plastic are easier to handle because they do not get so hot. In addition, they are very light and do not break so quickly. The ORNAMIN coffee to go reusable cups and food to go reusable bowls are free of harmful substances and can be heated in the microwave without hesitation. After eating, the reusable dishes can be easily cleaned in the dishwasher.