In autumn, leaves and forests show their most magnificent colours. Enjoy the play of colours and take your coffee with you on an autumn walk. In a matching to-go cup in warm autumn colours. You can transport your snack on the go in the practical reusable food to go bowls. Everything is 100% recyclable, sustainable and 100% Made in Germany.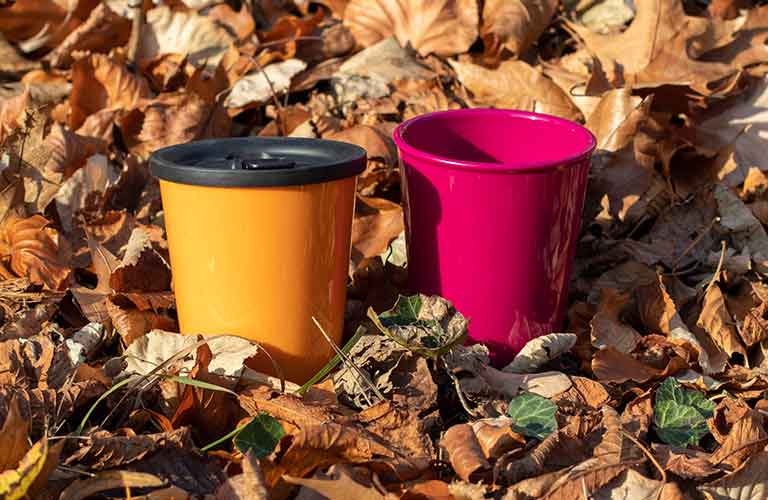 On the go in autumn: coffee to go mugs in autumnal colours
In the cold months, the ORNAMIN coffee to go reusable cups are indispensable. Sturdy and leak-proof - perfect for when you're driving or on your way to the office. Very trendy in autumnal pumpkin and soft blackberry shades. Be sustainable on the road and get your hot drinks like coffee, tea or cocoa simply with your own coffee to go mug at any coffee machine, bakery or petrol station. This creates no waste and protects the environment.
Sustainable reusable bowls in autumn colours
The food to go bowls for lunch to go are also available in autumnal colours. Great for lunch at the office, salad or yoghurt with muesli and fruit during the breakfast break: instead of taking lunch dishes from the supermarket, bakery or canteen in disposable containers, the food can be filled directly at the counter in reusable take-away bowls and taken along as lunch to go. With matching ORNAMIN To go lids, the reusable dishes can be closed in a slosh-proof way, stored in a space-saving way and safely taken along in any bag.