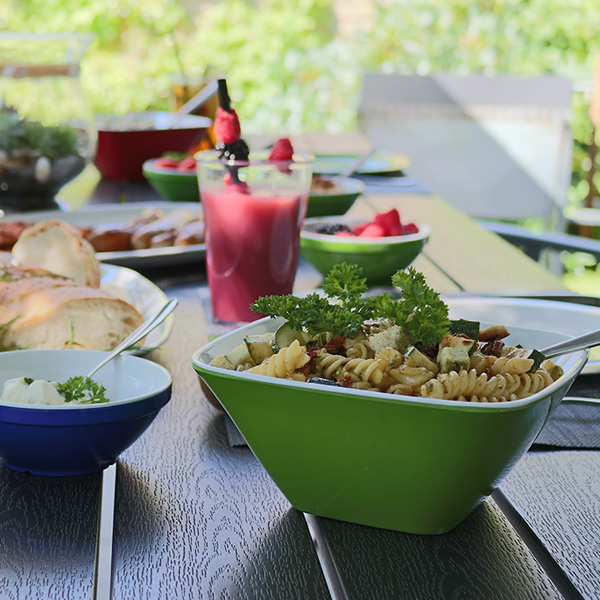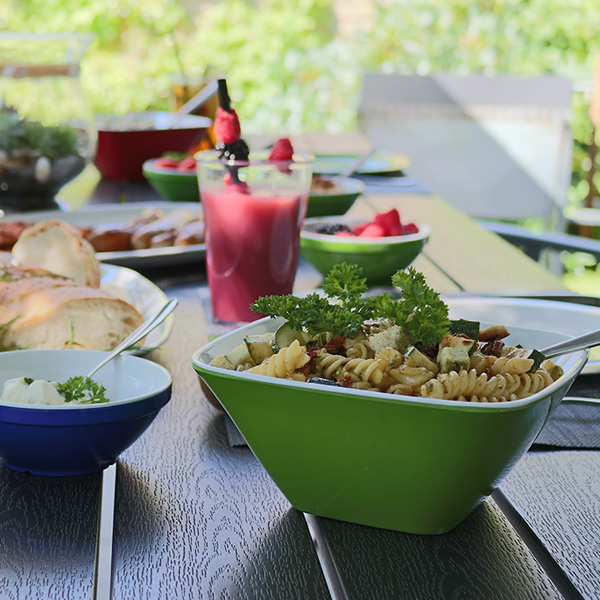 Bowl in timeless design for cereals or for serving side dishes.
Product number:
M642-3v170
Product information "Cereal Bowl"
space-savingly stackable, reusable
shatterproof, light, 100 % recyclable
looks similar to porcelain
BPA-free, dishwasher safe
sustainable reusable tableware, 100 % Made in Germany
Capacity:

950 ml

Height:

8 cm

Length:

17.5 cm

Material:

Melamin

Series:

Campus style

Use & care:

BPA free

, dishwasher safe

, food-suitable

, not microwaveable

Weight:

260 g

Width:

17.5 cm
Unusual leisure tableware
The bowl from the camp-style tableware series impresses with its timeless aesthetics and modern design. The combination of angular and round elements is stylish and chic, as well as super space-saving and easy to clean - ideal for all those who like things uncomplicated. That's why the plastic bowl is also versatile: as a salad, serving, soup or dessert bowl, for example, it cuts a fine figure. But the bowl is also a practical companion for camping, picnics or barbecues.
Light, space-saving and break-resistant
The reusable camp-style tableware is beautiful and practical at the same time. Its special shape allows for space-saving storage and efficient cleaning. Thanks to the high-quality plastic, the bowls are dishwasher-safe, extremely light and also break-resistant. This makes the cereal bowl ideal for use as catering tableware in canteens, cafeterias, schools, kindergartens, old people's homes, hospitals. Another advantage of the material is the low noise level, so that guests in the canteen, for example, are not disturbed by noise.
Colourful eye-catcher
The soup bowls fit ideally into existing colour schemes or provide new eye-catchers on the table. Especially in the two-colour look - coloured on the outside, white on the inside - they are a real highlight, for example in sunny yellow for day-care centres.
Perfectly coordinated
Round and square come together harmoniously in this tableware series. The individual parts of the tableware - plate model 604, bowls model 632, model 633, model 641, bowls model 642 and model 643 and cups model 610 - are perfectly coordinated. Thanks to their practical shapes, they can be cleverly put away in dishwashers and then stored in a space-saving way.
Matching tableware series
For every single tableware item, there is a matching series that you can find at our online shop. However, the plates, cups and bowls from all series can also be harmoniously combined with each other. Be inspired. (>> to the Campus Style series)
Reuse instead of throwing away.
Disposable cups like paper cups produce enormous mountains of waste. We want to change that, because we are reusable professionals. With the innovative, reusable coffee to go cup made of sustainable reusable plastic, we avoid waste before it is created. All ORNAMIN reusable products are recyclable and 100% Made in Germany. Honestly sustainable.